Ah! Megane-sama
Full-time Meganekko: Family names Sa-Se
---
SAITO Kaede; SAKAJOU Hikari; SAKAKI Chizuru; SAKIMORI Misao; SAKURADA Nori; SAKURAGI Matsuri; SAKURAZUKI Natsumi; Dr. SANADO Mio; SAOTOME Haruna; SASOAKA Yoko; SATOU Yuri; SAWAMURA Rin; SAYURI Hida; SEIJO Nako
---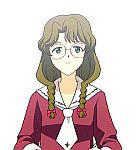 One of the earliest players of Angelic Layer, and the owner of the first "angel" doll made available for sale, Kaede has become one of the game's best and most popular players. She's intelligent, kind, cute, and rich, and (to nobody's surprise) is very popular with the male fans of Angelic Layer. She's always ready with a smile and a helping hand, and sometimes acts as a surrogate mother to some of the other players, possibly because her own mother died when she was very young. She's often found with Sai, one of the other Angelic Layer players, and in fact acted as Sai's assistant during the national championships. The two of them are just friends, though; Kaede doesn't seem to be interested in a relationship right now.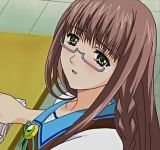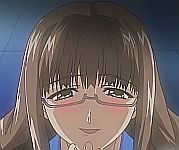 From the Green Bunny 18+ anime series Nikutai Teni (Body Transfer), based on an H-game. Sakajou Hikari is a shy girl studying archaeology in the same class as Aosima-sempai for whom she has a secret unrequited desire, unrequited that is until an ancient artefact releases its lustful powers upon the unsuspecting students. Hikari is definitely a full-time meganekko; she doesn't even take her glasses off during... well, you know what. She does have to clean them afterwards, though.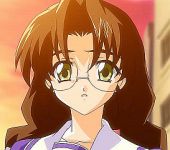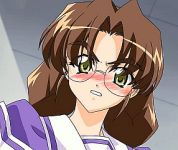 From Akane Maniax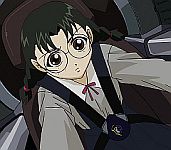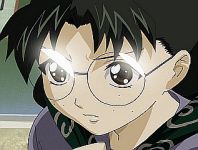 From Gatekeepers. Misao is a soft-spoken Gate Keeper, whose ability is the 'Gate of Perception' which, when in battle, allows her to calculate the future position of the enemy. Due to her father's work, she lives in Germany, where she works for the German branch of AEGIS (Alien Exterminating Global Intercept System), a world-wide group which uses those with the 'Gate' ability to help protect the earth from the Invaders. Related entries, from the same series: Kurogane Megumi; from the sequel: Isuzu Ayane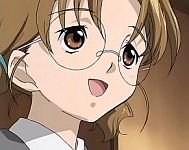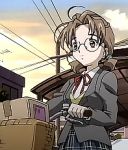 Nori lives with her younger brother Jun (the main character of Rozen Maiden); their parents are away overseas.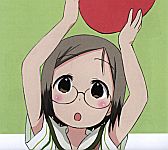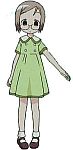 From Ichigo Mashimaro (Strawberry Marshmallow). The youngest of the all-girl cast, Matsuri is entirely too innocent and often a crybaby, but makes up for this by often having the cutest moments of the group. She has a pet ferret and naturally multicolored hair.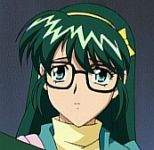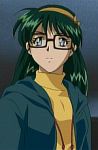 In the 18+ OVA Love Lessons, Kusanagi is deeply in debt with the Yakuza, and one of his "friends" drafts him to train women for the prestigious clients of a "gentleman's club". The first woman he trains is Sana Sakurazuki, whose father is also in debt. Since one of the clients wants a pair of sisters, Sana's sister Natsumi is lured from a get-together with friends. Will Natsumi help Sana out with trying to restore their happy family? Only one way to find out ...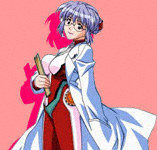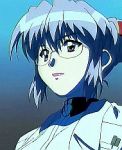 From G-On Riders - Related entries: Arashiyama Sera, Kurama Yuuki, Hoshikawa Yayoi, Ai, Mako, Pao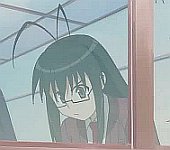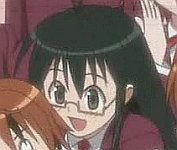 From Negima!. Haruna is a member of the Manga Club and the Library Club. (The manga makes it clear that the Library Club is actually the Library Exploration Club...) Related entries: Hakase Satomi, Hasegawa Chisame, Shizuna-sensei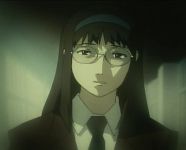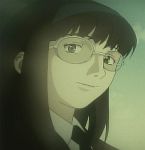 From Boogiepop Phantom - Related entry: Suema Kazuko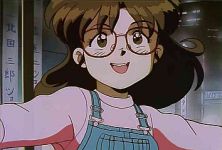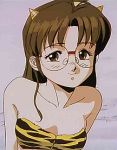 From Otaku no Video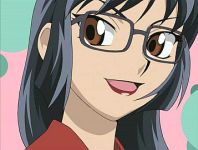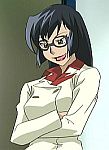 From Midori no Hibi (Midori Days or My Days with Midori). Older sister of the lead male character, Rin (called a respectful "O-Rin" by the other members of her motorcycle gang) is the only person who Seiji can't defeat in hand-to-hand combat. Despite her "tough girl" attitude, she cares about her brother (but not enough to let him keep his allowance). Rin was the first person to discover Seiji and Midori's ... close relationship.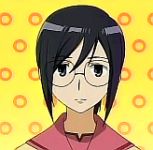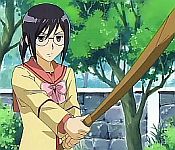 From Gokujou Seitokai. Hida is not your typical high-school meganekko. An executive member of the elite Student Council at Miyagami High School, she's in charge of the Assault Squad, the school's police force. The glasses are not a disguise; without them she's as blind as a bat, sad to say. Related entry: Miura-san.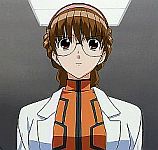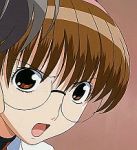 From Musumet. Nako is very enthustiac about her work when it involves deploying ultra-tech weapons.
---
Full-time Meganekko: A B-G H I-J K L-M N O-R Sa-Se Sh-Su T-W X-Z and nicknames Others A-J Others K-O Others P-Z
Part-time Meganekko: A-K L-R S-Z Others
Other Meganekko Information Needed
Index: By character: A-L By character: M-Z By anime: A-L By anime: M-Z
---