Ah! Megane-sama
Full-time Meganekko: Family names Sh-Su
---
SHIJOU Mitsue; SHIKIJOU Saori; SHIKOIN Kasumi; SHIMA Tsumugi; SHIMAKURA Kaori; SHIMURA Moko; SHINOZAKI Ai; SHIRAKAWA Sayuri; SHIZUNA-sensei; Lyubov SMETTANA; SONODA Elle; Prim SNOWLIGHT; SUEMA Kazuko; SUGAI Sakura; SUGIYAMA Makie; SUMIREGAWA Nenene; SUZUKI Ikuyo; SUZUKI Nana-sama; SUZUKI Takako; SUZUNARI Yuuko
---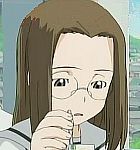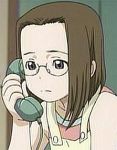 From Kamichu! Mitsue is a sensible down-to-earth girl, classmate and friend of Hitotsubashi Yurie, a middle-school girl who suddenly discovers one day that she has become a Goddess. Mitsue gets dragged along in Yurie's wake as she explores her new-found powers.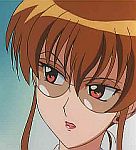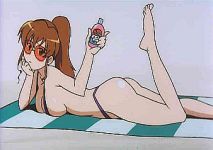 From Mahoromatic. When Misato Suguru's cute new maid, Mahoro, turns up at his school to give him the lunch he'd forgotten, everyone loves her - except for Suguru's 8th grade teacher, Shikijou-sensei. She views Mahoro as a threat to her supreme femininity, and the rivalry against the cute but prudish (battle android) maid and the sexy, statuesque (alcoholic, pushy, jealous) teacher begins. Related entry: Suzuki Mahoko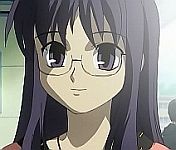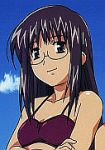 From Wind - A Breath of Heart; a strong-willed intelligent girl well used to keeping her extrovert (and hentai) childhood friend Tsutomu in check. Related Entry: Fujimiya Wakaba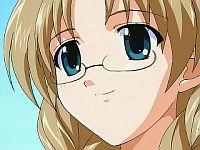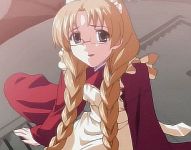 Like Fukushima Kinu, Tsumugi has the ability to call up and control a Raimu. Her joining the warship Amanohara as part of the Raimu Unit is shown in the Raimuiro Senkitan OAV anime. Tsumugi is one of the main characters in the sequel series Raimuiro Ryuukitan X, and is on the new team of girls. Other related entry: Ichijouji Sumi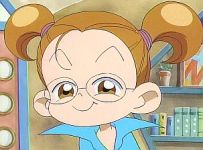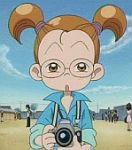 From Oja-Majou Doremi (Magical Doremi). One of Doremi's classmates, Kaori is the typical journalistic snoop girl that tries to get information out of people to publish in the school's newpaper. She has given Doremi and friends a lot of problems since she discovered they are working in a store without asking the school for permission, and at the end of season 1 she discovered Doremi's identity.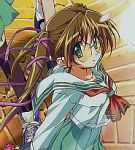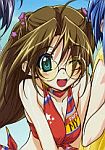 From Sotsugyou Next Graduation. Daughter of Shimura Mami. No good at housework(?) ("kaji zenhan nan demo konasu" is the exact phrase used). Likes cosplay. Related entries: Nakamoto Azusa, Nakamoto Shizuka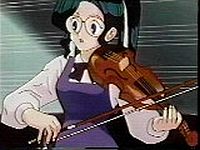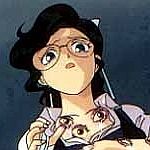 From Hell Teacher Nube. Ai is a 6th-grade student at Dohmori elementary school. She's very elegant and plays the violin. Tired of being tagged as such a perfect person, she decides to become bad for once. Because of this, monster-eyeballs start appearing all over her body, which eventually brings her to Nube's attention ...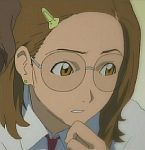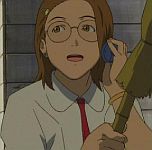 Shirakawa Sayuri from Earth Girl Arjuna is the good friend of both Tokio and Juna. It becomes obvious right away that Sayuri has a thing for Tokio. After Juna and Tokio return from their foray into the woods, Sayuri perhaps unconsciously starts turning on the seduction full-throttle, trying to pull Tokio away from Juna. (Sayuri feels that Juna is just not a caring enough girlfriend for Tokio, and that she herself could be a better one). Sayuri even goes without her glasses in a couple of episodes because she thinks it makes her look cuter to Tokio (and he does comment that she looks better without them).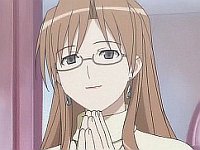 Shizuna-sensei is the staff advisor to Negi T. Springfield, the title character of Negima! She's 30 years old, and has a strong maternal instinct despite not having any children. Related entries: Hakase Satomi, Hasegawa Chisame, Saotome Haruna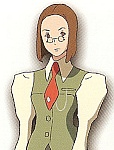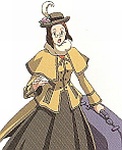 From Overman King Gainer. Lyubov, age 20, is the guardian and teacher of Princess Ana Medille. Lyubov goes along when the Princess sneaks aboard the "Exodus" mobile city units that are on their way to the "Promised Land". Lyubov eventually adapts to the Exodus lifestyle quite well.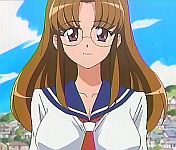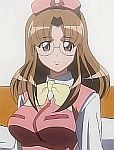 The mayor's daughter and initial love interest of the main character, Bocca, in Melody of Oblivion. She is rescued from peril by Bocca, but stays behind when he goes travelling. Someone who may be a "future version" of her makes an appearance later.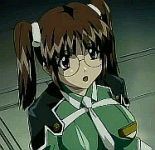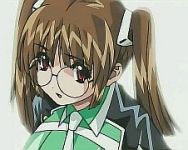 Although the job of the main characters in Divergence Eve is space combat, Seraphim ensign Prim Snowlight isn't among them. Instead, her job is to monitor the health of the pilots before and during battles, as well as their synchronization with their battle mechs. Despite being around the same age as the people she watches over (18), she doesn't really seem to socialize with them very much, or with anyone else. She does show concern when their health is at risk during battles, though. Her build is supposed to be 104-57-90cm (41"-22"-35"), and her special ability is supposed to be swimming, but she is never shown in a bathing suit for some reason. In fact, she rarely leaves the "Watchers Nest" base.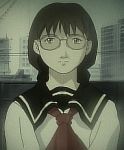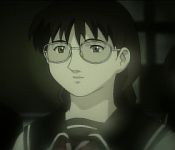 From Boogiepop Phantom - Related entry: Sasoaka Yoko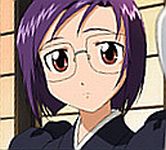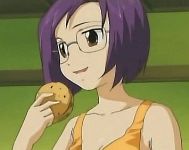 From Amaenaideyo. Sakura is one of six female Buddhist-monks-in-training at a remote temple when Ikkou, the grandson of the head priestess, arrives. Accidents happen as they always do in such harem-like circumstances...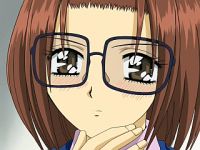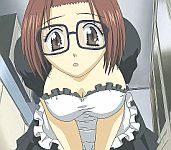 Inside every prim and proper Office Lady lurks ... a cosplayer! And Sugiyama Makie is no exception as she pursues the happily-married but rather naive Makoto-kun, the male half of the Futari Ecchi (or Naughty Couple). Of course, her maid outfit should really be reserved for the bedroom at home, not the break room at the office.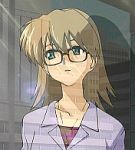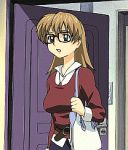 Sumiregawa Nenene is one of the central characters in the TV series R.O.D The TV, which is loosely based on the Read or Die OAVs, and the Read or Die and Read or Dream mangas. Ten years after winning the national award for best new author, she is stuck with a four year case of writer's block after the sudden disappearance of her friend Yomiko Readman, whose enthusiasm for her writing drove her to write the winning novel. She places a high value on friendship, even if her cynical and abrasive personality suggests that she can do without them, and may occasionally disappear for a few days to follow a lead on Yomiko's possible whereabouts. Nenene seems to have no other friends or associates, aside from her agent, whose existence she tolerates out of necessity. But when threats on her life start surfacing, her agent hires the "Three Sisters" detective agency to watch over her, giving her less exposure to solitude than she cares for.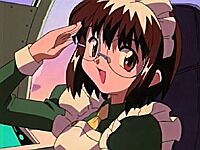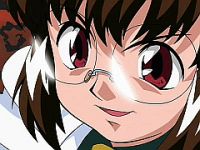 From Hanaukyo Maid Tai. Ikuyo is clever and inventive. Over-inventive, usually. It's easy to figure out if an invention is one of hers; it will have a smiley face on it and the resulting property damage runs into the millions. She is one of Master Tarou's inner circle of friends but she has a dark secret: she writes yaoi manga in her spare time.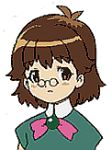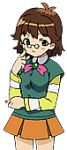 From Seven of Seven. Suzuki Nana had an accident involving a light solidification and separation experiment and became a colony of seven. Each Nana has a distinct personality, and one of them is Nana-sama: "the intelligent Nana". Related entry: Onodera Hitomi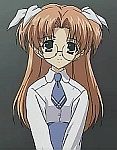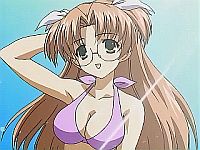 From W Wish. Sensei is never addressed by name in the anime; her name is found in at least one artbook. Related entry: Iida Akino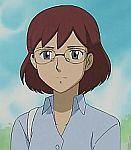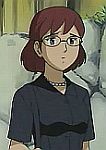 From Futatsu no Spica / Twin Spica; a teacher at Yuigahama Elementary.
---
Full-time Meganekko: A B-G H I-J K L-M N O-R Sa-Se Sh-Su T-W X-Z and nicknames Others A-J Others K-O Others P-Z
Part-time Meganekko: A-K L-R S-Z Others
Other Meganekko Information Needed
Index: By character: A-L By character: M-Z By anime: A-L By anime: M-Z
---