Ah! Megane-sama
Full-time Meganekko: Family Names I-J
---
ICHIJOUJI Sumi; IIDA Akino; IKUTA Mitsuki; IMAI Maria; INAGAWA Yuu; INOUE Miyako; ISE Nanao; ISUZU Ayane; IWATA Kana; IZUMI Neneko
---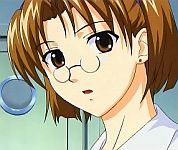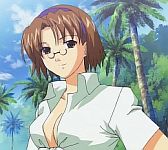 From Raimuiro Senkitan. Ichijouji-sensei serves as the doctor on board the warship Amanohara. Related entries: Fukushima Kinu, Shima Tsumugi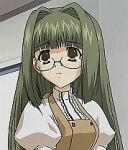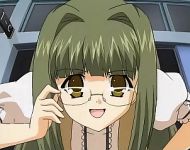 In W Wish, Iida Akino is a true class representative (iincho), bossy and over-achieving. She is determined her class will put on the best ever haunted house for the school festival, even if it means installing some real medieval torture devices ... Related entry: Suzuki Takako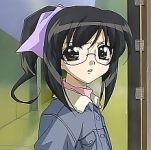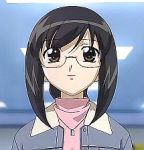 From Smash Hit! and Love Love?. Mitsuki is 25 years old, but with the body of a child. She works for the Houchiku Corporation and is experienced working with R-rated films, but really wants to become involved with a detective series. Unfortunately she ends up becoming assistant producer to the TV series Cosmopolitan Prayers aka Cosprayers.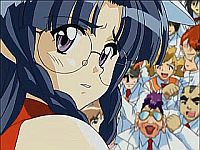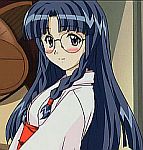 From Cosplay Complex. Maria is a miko (temple guardian) when she's not participating in the Ooizumihigashi High School's Cosplay Club. She's very protective of her little sister, and with good reason... Related entries: Aoshima Reika, Tomii Tsukasa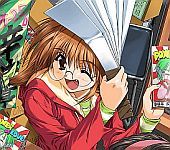 From Comic Party - Related Entry: Makimura Minami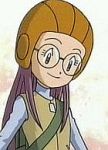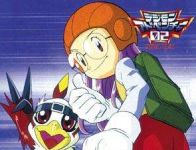 From Digimon. Yolei is a girl who accidentally discovers she is a new Digidestined and agrees to help the others to protect the Digimon from the Digimon Emperor. She is from a numerous family (almost all of whom wear glasses) - she has at least 4 siblings, at least one of whom is female. Her Digimon is called Hawkmon, and she has a very calm and sweet personality.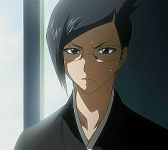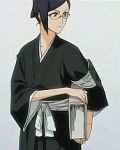 Nanao is a shinigami (or "Death God") in the anime and manga series Bleach. Despite her bookish appearance, she is a formidable warrior, having risen to the rank of lieutenant or second-in-command of the 8th Squad of the Gotei, the army of shinigami that protects Soul Society from enemies both spiritual and physical. Her temper is regularly tested by the teasing of her immediate superior and captain of the 8th Squad, Kyouraku Shunsui.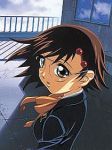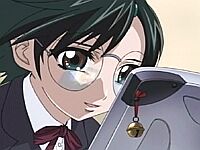 From Gatekeepers 21 (an OVA followup to the original TV series), Ayane is literally one of the next generation of Gatekeepers; she's the daughter of two of its members from the 1969 team. She's a quiet and severe young woman, largely due to issues that she has with her father and, of course, dealing with invaders. Related entries, from the earlier series: Kurogane Megumi, Sakimori Misao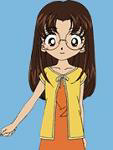 From Hamtaro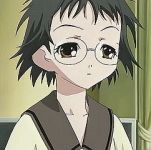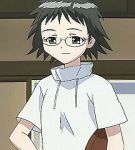 Neneko is both the childhood friend of Takeya Ikuhara (the lead male character of DearS), and his landlord's daughter. She comes across as a calm person, who's not easily flustered, but her façade doesn't always match her feelings. Related entry: Biko
---
Full-time Meganekko: A B-G H I-J K L-M N O-R Sa-Se Sh-Su T-W X-Z and nicknames Others A-J Others K-O Others P-Z
Part-time Meganekko: A-K L-R S-Z Others
Other Meganekko Information Needed
Index: By character: A-L By character: M-Z By anime: A-L By anime: M-Z
---