Ah! Megane-sama
Full-time Meganekko: Family names K
---
KAGURA Nako; KAKU Bunwa; KASUGA Manami; KAWASAKI Maki; KIKUKAWA Yukino; KIRISATO Nanaka; KISARAGI Mio; KITAGAWA-san; KOMATSU Chiaki; KURAMA Yuuki; KURAME Miné; KURIBAYASHI Yayoi; KURINOHARA Kurika; KUROGANE Megumi; KUZUNOHA Mana; KYODA Haruka
---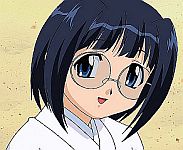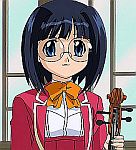 In a twist of the harem comedy cliché, Nako is the "loser boy" star of Steel Angel Kurumi 2. An excellent cellist, Nako suddenly finds herself surrounded by three female lovers (two battle droids and the girl next door), even though she herself is heterosexual.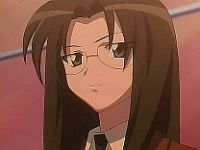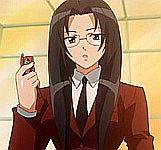 From Ikki Tousen (Battle Vixens), the Chief of Staff of Toutaku-sama. Related entry: Goei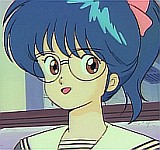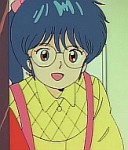 Manami is one of the two younger sisters of Kasuga Kyosuke, the protagonist of Kimagure Orange Road. She's much more level-headed than her reckless fraternal twin sister Kurumi, helping her father keep their family going after the death of her mother. Like Kyosuke and Kurumi, Manami inherited psionic powers from her mother, including telekinesis and teleportation.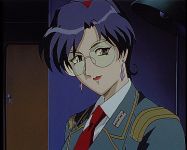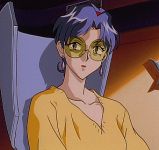 From Burn Up W and Burn Up X-Cess. Maki is the cool, calm and collected leader of Team WARRIOR. She has to be, since, really, none of the members who carry out the assignments in the field are that way themselves. Related entry: Chisato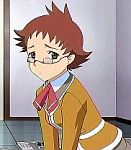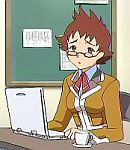 Yukino is a Junior at the Fuuka Academy, the setting for Mai-HiME, and volunteers as the secretary for the student council. This makes her the flunky for the council's busybody Haruka, with whom she's usually paired in scenes. Related entry: Harada Chie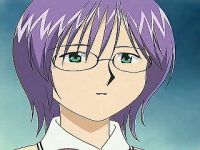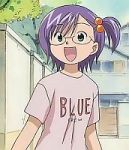 Nanaka, the title character of Nanaka 6/17, is a somber, serious 17 year old student who is so obsessed with becoming an adult that she's alienated all of her classmates. After an accident, she has no memories after age 6, and she believes that she and everyone she knows have been affected by magic from her favorite "magical girl" anime. Her best friend and father agree to keep her amnesia a secret, but her romantic rival finds out and (even though she tries not to be) is touched by the sweet-natured, friendly, and innocent "6 year old" Nanaka. But when Nanaka's memories start to come back, can she win over her new romantic rival, her 17 year old self?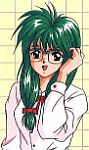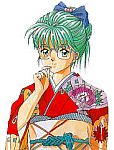 From Tokimeki Memorial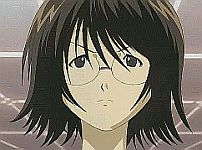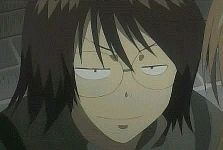 From Genshiken. Kitagawa-san is the vice-chairman of the university's Social Clubs committee. She has it in for the Genshiken club and is determined to get rid of this bunch of deadbeat otaku. Unfortunately for her, they discover her embarrassing personal problem and blackmail her. This does not endear them to her ...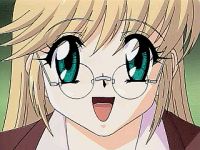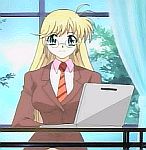 From the 18+ anime Five Card. Her teacher describes her this way: "Lisa Koenji, sophomore. She is the vice president of the student government here at school. A very pretty, very good student. It's cute how she gets nervous around me." Related entry: Aobajyo Mimika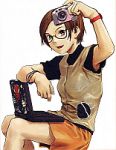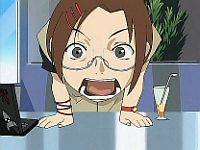 From NieA_7. Chiaki is a friend of Mayuko's from their cram school, Ipponmatsu Cram School. Chiaki is a fairly hardcore UFO nut and takes every available opportunity to visit Mayuko and the alien she lives with. She dresses a little eccentrically, and is often seen with a digital camera and laptop computer.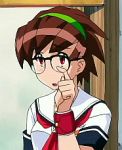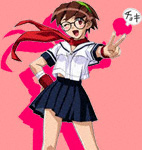 From G-On Riders - Related entries: Arashiyama Sera, Sanado Mio, Hoshikawa Yayoi, Ai, Mako, Pao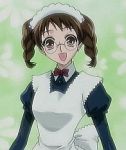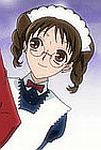 From Fruits Basket. Miné works as Ayame's assistant at his clothing store. She wears the store's merchandise by her own free will because she likes the clothing and thinks that wearing glasses attracts more customers. She was present when Yuki and Tohru visit the store and she amusingly "steals" Tohru to put on a dress appropiate for her so that Yuki and Ayame could talk about why their relationship soured over the years.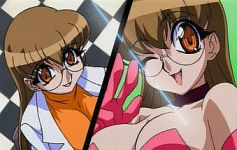 During the day, Yayoi's a nurse at the Yamanoue Academy, where university student Muon Sorata teaches art class part-time. By night, she's one of the servants of Mouse (a daring thief who thrills all of Japan except for its law enforcement agencies, of course), and the one who creates and handles chemicals and gas for him. Out of the three woman who work for Muon/Mouse, she's the most easy-going, but no less intensely in love/lust with the man himself.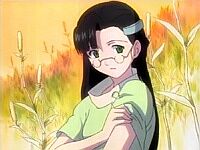 From Sumeba Miyako no Cosmos-sou Suttoko Taisen Dokkoida. A-Class criminal alien and crazed inventor Dr. Marron Flower has an able robot assistant, who usually appears to be his sweet and gentle granddaughter Kurika. She also usually appears built into the various large and imposing mecha Dr. Marron Flower creates as part of his evil A-class criminal plans. She is kind, and cares for all the residents of Cosmos-sou, super-hero and super-villian alike, but remains fiercely loyal to Dr. Flower, even to the point of disobeying his orders. Kurika is the central character of episode 7 of this series, an oddly touching and heartwarming tale in the midst of what is otherwise a zany series. Related entry - Marylin Mororoe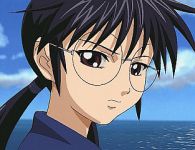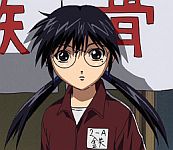 From Gatekeepers. Megumi is a Gatekeeper with a power that creates a defensive wall. She has a mean jealous streak towards the main heroine and is rather anti-social. Although Megumi wears glasses, she can see fine fine without them; they're just for show and serve no purpose other than to maintain her image. She's often seen reading a book, and when at home is forced to help with her parents' business. Related entries, from the same series: Sakimori Misao; from the sequel: Isuzu Ayane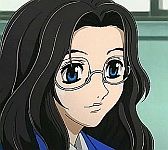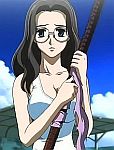 From Tenjou Tenge. Mana is an agent assigned by the Takayanagi Family to spy on and manipulate Natsume Shin, one of the top martial artists at Toudou Academy. Her cold calculating exterior belies her inner feelings for her target; she is perhaps the only one who can control Shin when his destructive rage surfaces.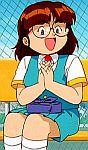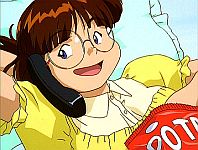 From The Daichis - Earth Defence Family; classmate and friend of Nozomi.
---
Full-time Meganekko: A B-G H I-J K L-M N O-R Sa-Se Sh-Su T-W X-Z and nicknames Others A-J Others K-O Others P-Z
Part-time Meganekko: A-K L-R S-Z Others
Other Meganekko Information Needed
Index: By character: A-L By character: M-Z By anime: A-L By anime: M-Z
---