Ah! Megane-sama
Part-time Meganekko: Family Names A-K
---
AGATSUMA Mizuki; AKAGI Ritsuko; AKIYAMA Fumio; AKIYAMA Higure; AOBA Kozue; AOSHIMA Reika; AYASUGI Hyatt; CHONO Harumi; Cher DEGRE; Sophia FORRESTER; Stollen FORTE; Mia GUILLEM; HASEGAWA Chisame; HOSHINA Tomoko; ICHIMONJI Mutsuki; Flead JOHANSSON; KAMASHIRO Rin; KATSURAGI Moé; KAZAMI Mizuho; KOBAYASHI Washuu; Kim Nicholas Fidel Muammar Tikriti Adolf de KOMACHI
---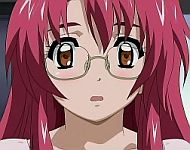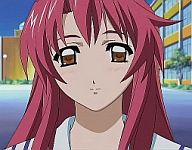 From Yumeria; childhood friend of main character Mikuri Tomakazu. Mizuki wears glasses when reading. Related entry: Senjou Nanase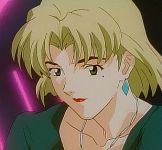 Dr. Akagi is the calm and rational major member of NERV, which sometimes puts her at odds with her friend and fellow member Misato Katsuragi. Like everybody else in Neon Genesis Evangelion, deep down, she isn't really who she seems to be. Ritsuko wears glasses when she has a lot of paperwork to do.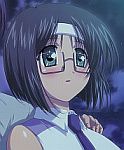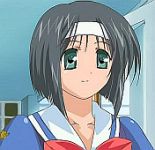 From Operation Sanctuary. Fumio is the class iincho. Related entry: "Director"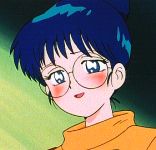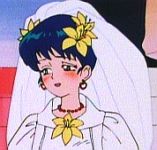 From episode 16 of Sailor Moon. A junior-high-school home economics teacher, Akiyama-sensei's fondest dream was to wear on her wedding day a wedding dress that she made herself. The Dark Kingdom nearly perverted this dream, but the Sailor Warriors were able to set things right ...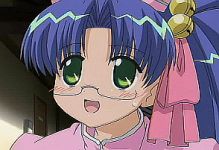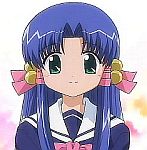 The landlady in Mahoraba ~Heartful Days~. She doesn't normally wear glasses, but one of her personalities (in episode 9) does ... Related entry: Momono Megumi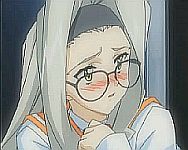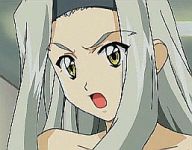 From Cosplay Complex. Reika only wears glasses when she's alone, studying or doing the accounts for the school's Cosplay Club of which she's the vice-president. She's an iincho as well, but she never wears her glasses in class... Related entries: Imai Maria, Tomii Tsukasa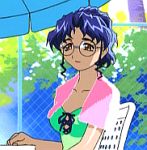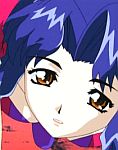 One of the major characters of Excel Saga, Hyatt is a strange visitor from another planet. Make that a very strange visitor - she's so frail that almost any amount of stress will kill her, but she gets better ... She also has a problem with moral systems, being quite happy to help the secret ideological organization ACROSS try to take over the world. Hyatt usually wears contacts, but when she goes to the pool in episode 8, she wears glasses instead.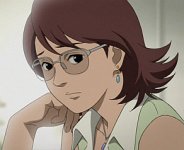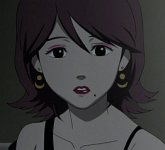 From Paranoia Agent. Harumi is the mild-mannered tutor and confidant of Yuichi "Ichi" Tairo, a victim of Shonen Batto ("Li'l Slugger" in English). She is also a professor's assistant at a local university. Although she appears normal, there may be more to Harumi than meets the eye...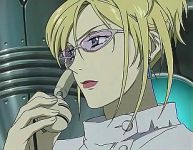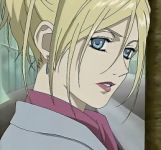 Cher is the primary scientist studying Cheza, the flower maiden, at the beginning of Wolf's Rain. Cher is a very independent, determined and intelligent person, and she is incredibly dedicated to her job. Her job rules her life, and her marriage ends up falling apart because of it, although it's obvious Cher still cares for her ex- husband, Hubb. Throughout the series, Hubb chases Cher to the ends of the earth, just as Cher chases Cheza, caring more about the flower maiden then her own life.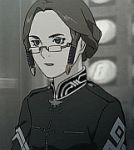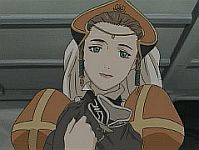 From Last Exile. Sophia Forrester is Alex Row's executive officer, or second in command, on the Silvana. She is also Alex's collaborator in a scheme that could radically reshape the political landscape of the world they live in. While on the Silvana she is a bespectacled, capable commanding officer, and often offsets Alex's coldness with a touch of kindness to her subordinates. But off the ship, she has another role: she dresses as a lady, unfettered by eyeware, fulfilling her other duty. She'd rather be back on the Silvana at those times, though.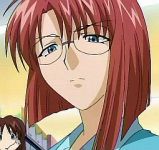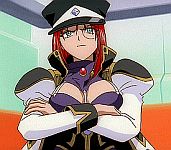 From Galaxy Angel. Stealing shamelessly from her Being Upfront entry (with my apologies to Dave Watson): "First Lieutenant Forte Stollen is a hotheaded weapons fiend with a voice so deep that some people have wondered if she was actually a man. Given the picture above [to the right, on this webpage], I wonder if they were blind. ... They are both senior members of the Angel Brigade, a branch of the Transvaal Empire military. While they search for mysterious relics known as "Lost Technology" (whatever that is), the Brigade - now expanded to a quintet with the addition of Milfeulle - are sent out to perform various bits of gruntwork, much to their chagrin, and our laughter."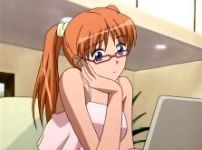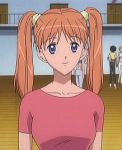 Mia is one of the Kaleido Stage performers (from Kaleido Star), good at juggling and the trampoline. She wears her glasses when working at the computer, either simulating a new routine for the Stage (often involving her friends Sora and Anna) or updating her website. Related entry: Naegino Midori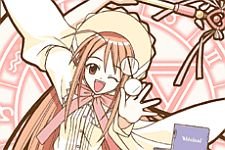 From Negima! She's been in the background of the anime so far, but she had a story to herself early in the manga... In class, Chisame is a model student - she's studious, has no time for foolishness, and wears glasses. At home, Chiu is a top-ranked internet "idol" - she takes photos of herself in various outfits, without her glasses, and uploads them to her website. Related entries: Hakase Satomi, Saotome Haruna, Shizuna-sensei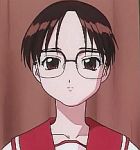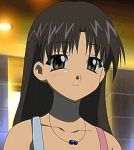 Class representative Hoshino Tomoko (in To Heart) is a rather lonely girl who doesn't have many friends and gets bullied by some of the other more assertive students. She gets on with the job, though, in a competent, determined manner that finally wins her the respect of her classmates. In the second series (To Heart ~ Remember my Memories), Tomoko moves back to her hometown of Kobe; the others bump into her when they travel there, and don't recognize her at all because she's changed her hairdo and stopped wearing glasses.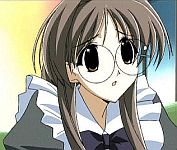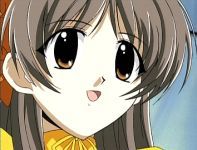 Mutsuki is one of five teachers who decided, all on the same day, to help out an orphaned student named Chitose by moving in with him and acting as his surrogate mothers. This relationship has turned into a Happy Lesson for all of them; they're learning how to enjoy life while becoming a family. Of course, they have some problems. Chitose's class president, Nanakorobi Fumitsuki, has become interested in Chitose, which could lead to a scandal if she found out about Ichimonji-sensei and the other teachers living with him. And one of the other teachers has a childhood friend, Togakushi Kanna, who's started to cause some problems in the family's life ... "Mutsuki-mama" wears her glasses at home, or in other family situations, but never at school. ("Mutsuki" means "straight line," and "Ichimonji" means "January".)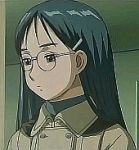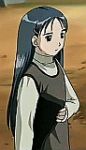 Like the other Gunslinger Girls in her team, Flead "Claes" Johansson is not the innocent 13 year old that she appears to be, but is a highly trained cybotic assassin. Despite this, she is not often used in actual missions, instead passing the time reading. Her personality is often that of a cold fish, with her actions being performed more as a duty to be carried out than as a personal interest.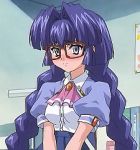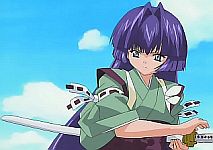 From Maburaho. After it's found out that below-average magic student Kazuki Chikimori's magic is actually lying dormant in his genes, he winds up with several female magic students wanting to bear his powerful progeny. New transfer student Rin Kamishiro is ordered by her ultra-traditional family to marry Kazuki for the family's good, which she is not happy about; in fact, our hero is now prone to facing the business end of her sword. Most of the time, she doesn't wear glasses, but, in episode 5, she wanted to give a male classmate she had a crush on a bento lunch before he transferred out of Aoi Private Academy. Fellow student (and rival for Kazuki) Kuriko Kazetsubaki gives her advice on how to dress up, and decides that a pair of glasses would be a nice addition, whereupon she tries on three different pairs. Related entries: Nario Raika, "Kanrinin-san"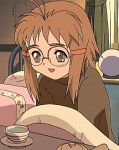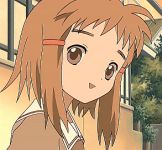 The lead human character in Risky Safety, Moé is an average teenaged girl who can see the trainee shinigami Risky and the trainee angel Safety. She does her best to protect her classmates from Risky whenever she has the chance. Moé wears glasses at home; when she's expecting to be seen by anyone outside the family, she wears contact lenses.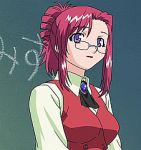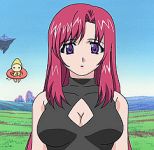 From Onegai Teacher! (Please Teacher!) Kei Kusanagi encounters a half-alien/half-human woman on the riverbank in his town. It changes both their lives ... especially when odd circumstances culminate in the two of them getting married. Under the guise of the language teacher in the high school he attends, Mizuho observes life on Earth, and keeps an eye on Kei. Most of the time, it's through lenses, but when she's in full alien duty mode, or at a few other times, she takes them off. Related Entry: Oribe Tsukabi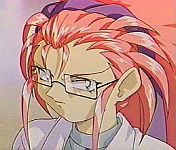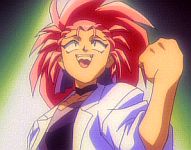 From Magical Girl Pretty Sammy. A genius polymath (her talents include inventing the Internet and being able to communicate with alien life), Washuu is most interested in learning the secrets of the magical girls Pretty Sammy and Pixy Misa. She always wears glasses while teaching at school, but rarely wears them elsewhere. (Washuu almost never uses her family name; we only know it because multibillionaire software company owner Bif Standard calls her by her full name.)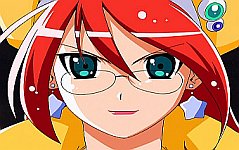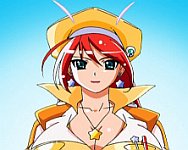 From Nurse Witch Komugi. Also known as 'Komachi-sensei' and 'Magical Teacher Komachi', she is a strange teacher with a hidden agenda, a long name, and large breasts. Related Entry: Nakahara Komugi
---
Full-time Meganekko: A B-G H I-J K L-M N O-R Sa-Se Sh-Su T-W X-Z and nicknames Others A-J Others K-O Others P-Z
Part-time Meganekko: A-K L-R S-Z Others
Other Meganekko Information Needed
Index: By character: A-L By character: M-Z By anime: A-L By anime: M-Z
---