Ah! Megane-sama
Full-time Meganekko: Family names N
---
NAEGINO Midori; NAGANE Shizuka; NAKAHARA Chiaki; NAKAMOTO Azusa; NAKAMOTO Shizuka; NANAKOROBI Fumitsuki; NANASE Manami; NARIO Raika; NARUMI Yui; NATSUME Akiko; NIKAIDO Yoriko; NOBI-san; NOKI Chinami; NORIMAKI Arale
---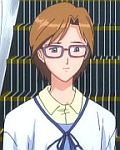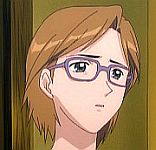 Midori appears in episode 19 of Kaleido Star. Her appearance there, and her appearance there, caused her adopted daughter Sora to suffer a crisis of conscience, much to Midori's regret. (Midori also makes a cameo appearance in episode 26, and appears in the sequal series Kaleido Star: New Wings.) Related entry: Mia Guillem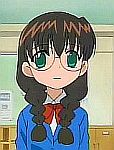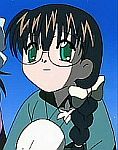 "Iincho", as her nickname implies, is a stereotypical anime class representative in Sensei no Ojikan: studious, serious, and generally not too outspoken. However, her calm exterior hides a deep, dark secret: she's absolutely, insanely obsessed with fictional band SNYAMP's lead singer Koro-chan (a parody of SMAP's Inagaki "Goro-chan" Goro). It appears that Iincho is already spoken for - unexpectedly enough, by her classmate Nakamura "Oyaji" Gen, who is as different from Koro-chan as anyone can be whilst still remaining male.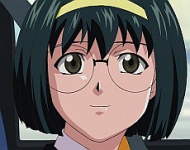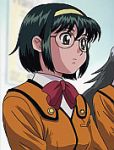 A humble desk worker in the Public Relations Division 2 who harbours a secret crush on the 3rd Pilot of the Dai-Guard, cold and suave Aoyama. Related entry: Domeki Rika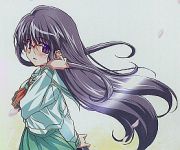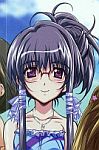 From Sotsugyou Next Graduation. Daughter of Nakamoto Shizuka (from the first OAV). Has trouble interacting with others. Enjoys reciting or composing haiku. Other related entry: Shimura Moko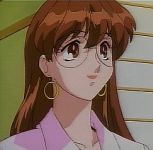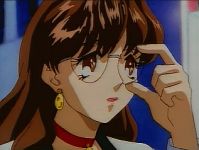 From Graduation, Marriage, and Sailor Victory, and mother of Nakamoto Azusa from Sotsugyou Next Graduation. Other related entry: Shimura Moko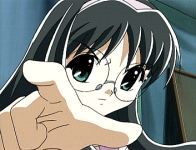 One of Fumitsuki's classmates in the anime Happy Lesson once said that she's almost the stereotypical class president: cute, smart, bossy, a meganekko, and in love with the lead male character. (Said classmate was immediately sent flying by Fumitsuki, showing one way that she doesn't conform to the stereotype.) She makes a habit of keeping track of her classmates' lives, but so far hasn't learned that one of her classmates and her homeroom teacher, Ichimonji Mutsuki, share a big secret. Later in the anime, she and Togakushi Kanna become rivals for the lead male character's love, not that he ever notices ... ("Nanakorobi" is a reference to the Japanese proverb "nanakorobi yaoki" - literally "fall down seven times, stand up eight", colloquially "never give up". "Fumitsuki" is an archaic word for July.)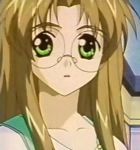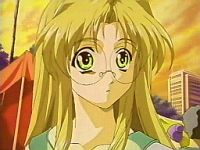 From Mitsumeteitai (With You). Manami is back from spending several years in Burma with her father who collects artefacts for a museum. She finds Itou Masaki, the boy she left behind, is now involved with her best friend Naori...
(Note: At least one fansub mistranslates Myanamar (Burma) as Yemen.)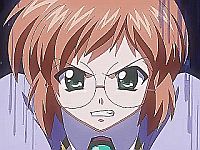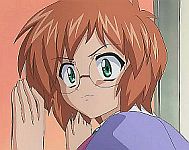 From Maburaho. Another of Kazuki Chikimori's classmates, and a member of the Newspaper Club. She's sometimes armed, quite literally, with a camera. Raika is a little more formal than the other girls in the class, and fairly straight-forward. Related entries: Kamishiro Rin, "Kanrinin-san"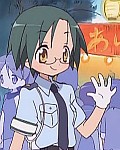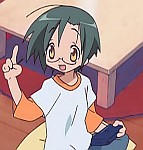 From Lucky Star. Yui is a police officer, but has such an easygoing approach to life that she occasionally gets in trouble with her co-workers. (Even her niece Konata Izumi realizes Yui is too laid-back!) She's in a long-distance marriage, which occasionally leads to misunderstandings.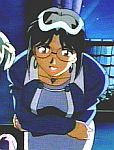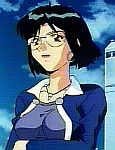 From All Purpose Cultural Catgirl Nuku Nuku Dash. In this incarnation of the series, male lead Ryuunosuke's mother and CEO of Mishima Heavy Industry, Akiko, is still happily married to inventor Kyuusaku, but no less able to deal well with stress.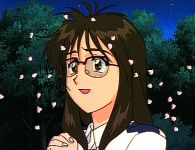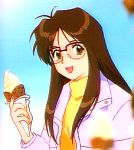 Yoriko's partners often have to say "You're Under Arrest" to the people they encounter. Yoriko is more involved in the other parts of police work - education, public assistance, and community outreach - and has received a citation from headquarters for this part of her job. Yoriko is also interested in knowing what's going on around the station house; she's the precinct's biggest gossip. Her height and voice make her look and sound younger than she really is, so Yoriko has trouble finding a boyfriend ... Related entry: Umida Mie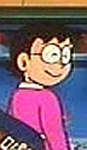 From Doraemon. Nobita's mother, she constantly scolds her son because he prefers to fool around rather than improving his grades (if you can count nothing but zeros to be school grades). She allows Doraemon to live at her house, but she doesn't know his true nature ...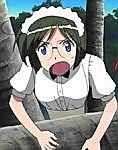 Chinami is the assistant of half-alien School President catgirl Ozora Yuriko, who works for the landmark-stealing aliens of the world of Rikujo Boueitai Mao-chan. Chinami spends most of her time trying to keep Yuriko's catgirl status a secret, and to keep her on-mission, as Yuriko is easily distracted by Mao-chan's delightful cuteness (and who could blame her?) Related entry: Mishima Kagome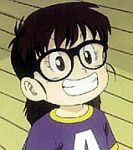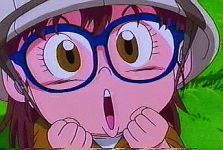 When the perverted Norimaka Senbee (also known as Dr. Slump) found that no woman he ever encountered - okay, hit on - liked him, he decided to build his own robot woman. What he wound up with was a super-strong, hyperactive little robot daughter with bad eyesight, a simple mind and a fascination with something she can't make herself: human waste.
---
Full-time Meganekko: A B-G H I-J K L-M N O-R Sa-Se Sh-Su T-W X-Z and nicknames Others A-J Others K-O Others P-Z
Part-time Meganekko: A-K L-R S-Z Others
Other Meganekko Information Needed
Index: By character: A-L By character: M-Z By anime: A-L By anime: M-Z
---